California's Angeles Crest Virtual Bike Ride - Available as a DVD or HD Download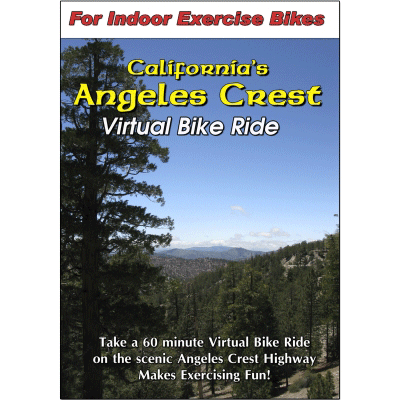 Take a 60 minute Virtual Bike Ride along the scenic Angeles Crest Highway in Southern California. This is one of our fastest bike rides with speeds averaging between 20 and 40 miles per hour. Your 60 minute Virtual Bike Ride begins at scenic Cloud Burst Summit on the Angeles Crest Highway at an elevation of 7,018 feet. Your mostly downhill route heads westward in the San Gabriel Mountains.
The road winds through the scenic Angeles National Forest where development is very limited. During the 1 hour bike ride you take one detour onto the road up to the Mt. Wilson Observatory which is enclosed in a cloud.
Filmed in Widescreen.
Available as either a DVD for $14.99 or HD Download for $6.99 by clicking on "Links" - above left.
Click on "Watch Video Clips" - under "Links" to view samples from this Video.