Appalachian Trail Virtual Walking Tour - Available as a DVD or HD Download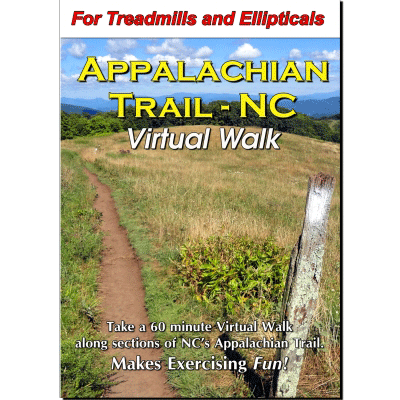 Take a 60 minute treadmill virtual walk along two scenic sections of the Appalachian Trail in North Carolina. Your 60 minute Appalachian Trail Virtual Walk in North Carolina begins at Lover's Leap promentory, on the Appalachian Trail overlooking the French Broad River.
You begin by walking down the narrow mountainside trail with its numerous switch-backs, across the French Broad River Bridge and into and through the small town of Hot Springs - the only town in North Carolina which the Appalachian Trail goes through the center of town.
Next, after following the historic A.T. through another section of dense woodlands with green ferns lining the forest floor you move to Max Patch Mountain where the Appalachian Trail goes right across the top of the bald mountain known for its scenic vistas in every direction.
Filmed in Widescreen.
Available as either a DVD for $14.99 or HD Download for $6.99 by clicking on "Links" - above left.
Click on "Watch Video Clips" - under "Links" to view samples from this Video.