Bermuda Virtual Walking Tour - Available as a DVD or HD Download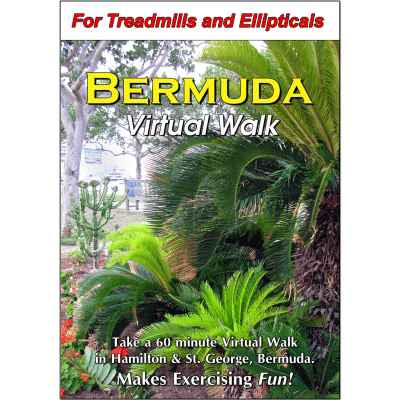 Take a 60 minute virtual walk on your treadmill or Nordic Track on the island of Bermuda. This DVD will take the viewer on a 60 minute Virtual Walk through Hamilton and St. George, Bermuda. Filmed in widescreen using a professional TV camera and camera stabilization equipment, the camera seems to float as it transports the viewer through some of the most historic and beautiful scenery in Bermuda.
Your 60 minute Bermuda Virtual Walk begins at Barr's Bay Park next to the Royal Bermuda Yacht Club. After a short walk on Pitts Bay Road you turn and enter Queen Elizabeth Park, considered a premier park and a recreational area within Hamilton City. Leaving Queen Elizabeth Park, you next enter Victoria Park, with its sunken garden, lawns, and flower beds in the traditional English style.
Next, beginning at the St. George's Club, you walk down Rose Hill Street to St. George's beautiful waterfront. Next, you cross a bridge to a small island and pause to take a look at the replica ship Deliverance before touring some of St. George's interesting and picturesque back streets and alleyways.
This is the "real" Bermuda, tropical plants, pastel homes and something "visually interesting" to enjoy around every corner. Your one hour walk then takes you not only onto the grounds of St. Peter's Church, said to be the oldest continuously used Anglican church in the Western hemisphere, but also to the ruins of the "Unfinished Church" in St. George, an elegant shell built in the 1870s whose construction was never completed, then into Somers Garden, a tropical oasis with ti plants and beautiful walkways.
For the final section of your one-hour Bermuda Walk you return to the city of Hamilton and to the grounds of Fort Hamilton and down to its old moat which, years ago, was turned into a tropical garden with plants of every description thriving in a lush sunken garden.
Your 60 minute Bermuda Virtual Walk ends at Fort Hamilton with a view of the harbor.
Filmed in Widescreen.
Available as either a DVD for $14.99 or HD Download for $6.99 by clicking on "Links" - above left.
Click on "Watch Video Clips" - under "Links" to view samples from this Video.