The Cotswolds - Timeless
December 2, 2006 by Kathi Jacobs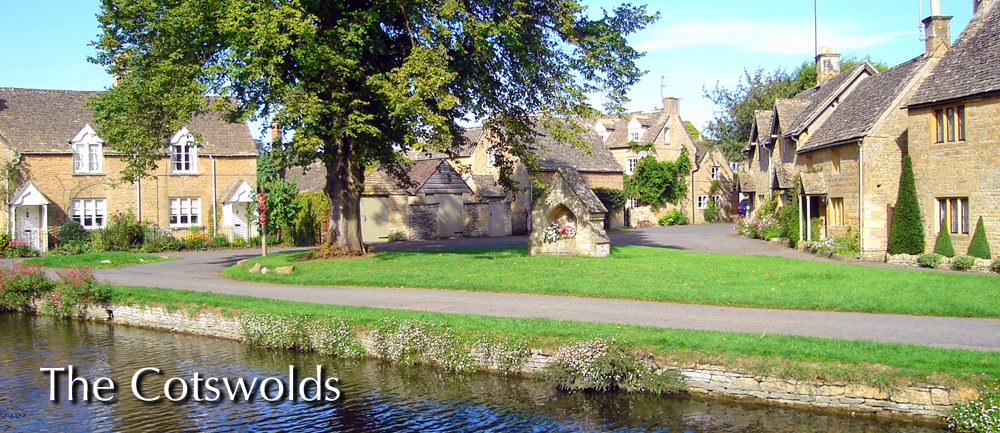 After spending a few weeks in October of 2003 in southeast England, walking the footpaths of the Darent River Valley, we thought we had a good idea of what the autumn was like in the English countryside. But since returning from our 2006 late-September trip to the Cotswolds, we have a newfound appreciation of yet another beautiful part of England.

For my husband, driving on the wrong side of the road turned out to be even more difficult than he had expected, especially since the Brits have so many "round-abouts" and their traffic pattern in those rotaries goes to the left instead of the right. My job was to constantly remind Wayne to "Stay on the LEFT!" as he made turns. For anyone who is planning a trip to the UK, it would be a good idea to pay a little extra and rent an automatic drive. We opted for a straight-drive and soon discovered that everything is on the wrong side for an American driver: not only the driver's seat, but the gear shift and the rear-view mirror as well!
Autumn was a good time to visit because the villages were not crowded with tourists, and in many cases we felt that we had the village to ourselves. We visited many of the larger, well-known villages but actually preferred the smaller ones off the beaten path. We were there for a week in the Cotswolds to film more episodes of our unique VITA European Treadmill Virtual Walk DVDs, designed to take the boredom out of the time spent on treadmills, Nordic Tracks, and exercise bikes. During the past 5 years, Wayne and I have traveled extensively in Italy and the United Kingdom filming these Treadmill Virtual Walks and are constantly searching for picturesque locales to film additional walks.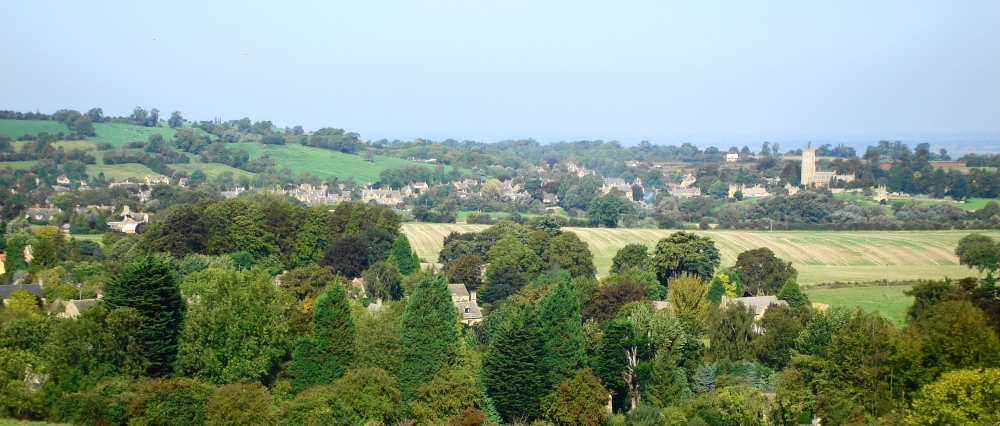 The tiny village in which we stayed for a week, Stretton-on-Fosse, had the most awe-inspiring night skies imaginable. Since we were so far removed from cities of any size, each night the sky would become inky black, and millions and millions of stars would be twinkling against this sea of black - more stars than we had ever seen before.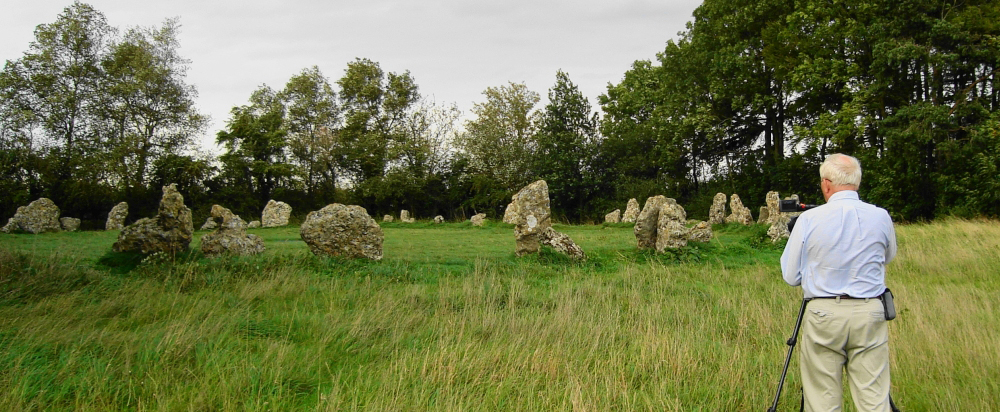 It's easy to understand why the early inhabitants of England built structures like Stonehenge and the Rollright Stones (above) - if one could look at a sky like that every night, one would realize there was something truly mysterious about the universe. The villages in the Cotswolds are used again and again in television programs and motion pictures. The Rollright Stones (above) location was used in an episode of the BBC hit TV series, "Father Brown."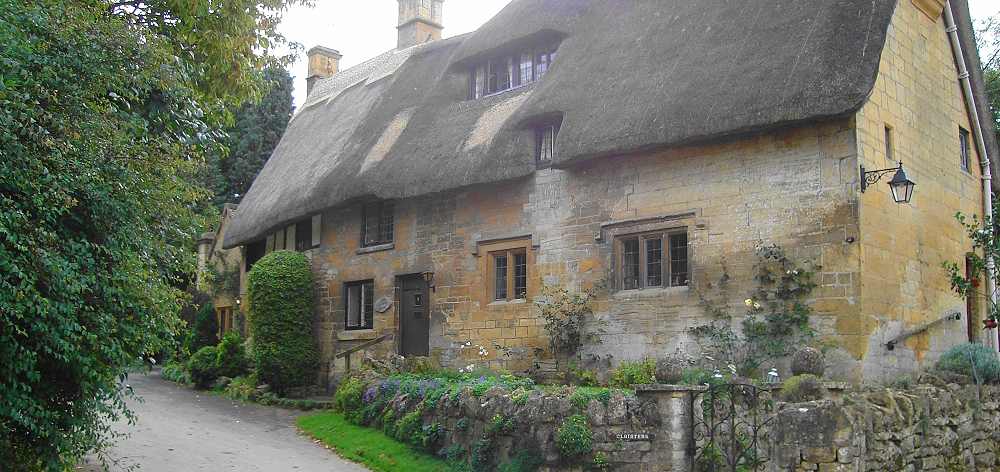 The Cotswolds were somewhat of a surprise because they turned out to be even more picturesque than we had hoped. We read a number of books on the area before our trip and knew that this part of England was officially recognized as an "Area of Natural Beauty." What an understatement! Each village we visited during our busy week was clean and well-tended, with magnificent flower gardens in front of small stone cottages. We soon decided that the climate, with its frequent rain and indirect sunlight from cloudy skies, was responsible for making the gardens and window boxes so beautiful.
One day, while filming in the little village of Upper Slaughter, we encountered a hand-painted sign on the walkway to the entrance which simply said, "Flowers in Church." Entering the church of St. Peter, we were greeted with such a profusion of flowers that we assumed a wedding had just been held a few days earlier. In fact, the ladies of the village periodically adorn the church with flowers from their gardens.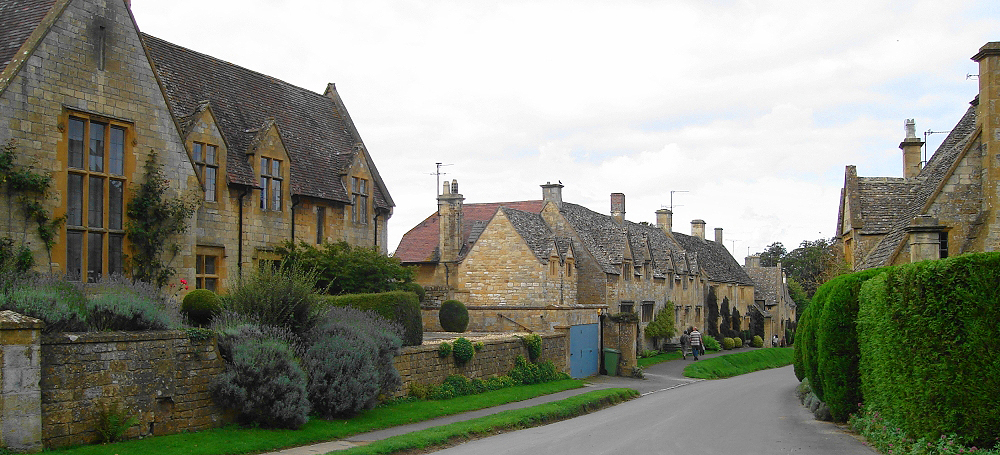 Throughout the Cotswolds, Wayne and I saw a common thread: the cottages, large and small, were constructed with the distinctive "honey-colored" limestone from local quarries. And each village, no matter how small, had an impressive stone church, usually in some way connected to the lucrative sheep and wool trade which was thriving here during Medieval times. We spent most days walking the Cotswold Way and filming more of our VITA Virtual Walk Videos.

For locals, walking in the Cotswolds is more than an idle pastime; it is a passion. Every village has walking paths branching out from the center, and we encountered people of every age along the trails. The number of elderly walkers pleasantly surprised us: with a cane to steady themselves, they were off on a four-to-seven mile walk. What a wonderful way to stay active! We often packed picnic lunches which we ate while leaning over fences and admiring the sheep, cattle, and pheasants roaming about. Everyone we met along the trails offered a friendly greeting.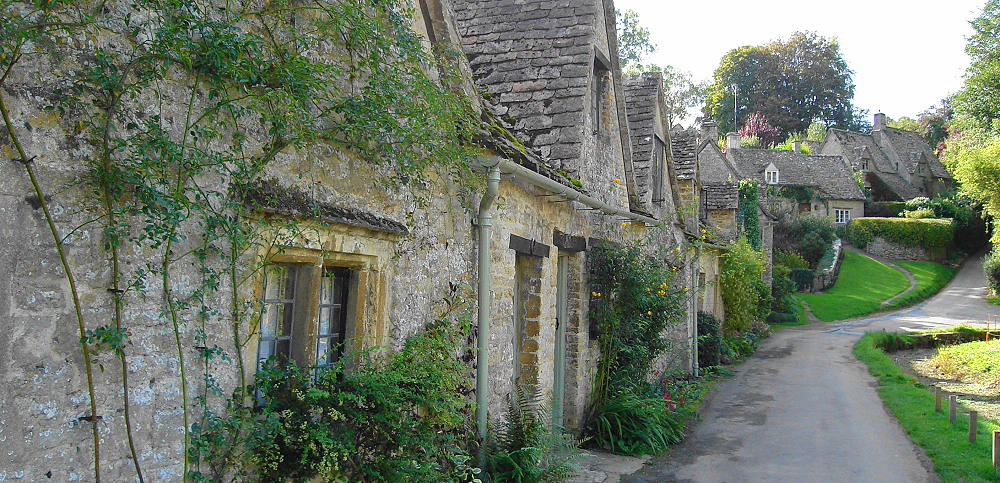 Our first full day in the Cotswolds ended with a wonderful dinner at a pub in Chipping Campden, with families all around us. We also enjoyed shopping at the Tuesday open street market in Moreton-in-Marsh (sort of an outdoor department store that's only open one day a week); having tea in the old mill near Arlington Row in Bibury (above);...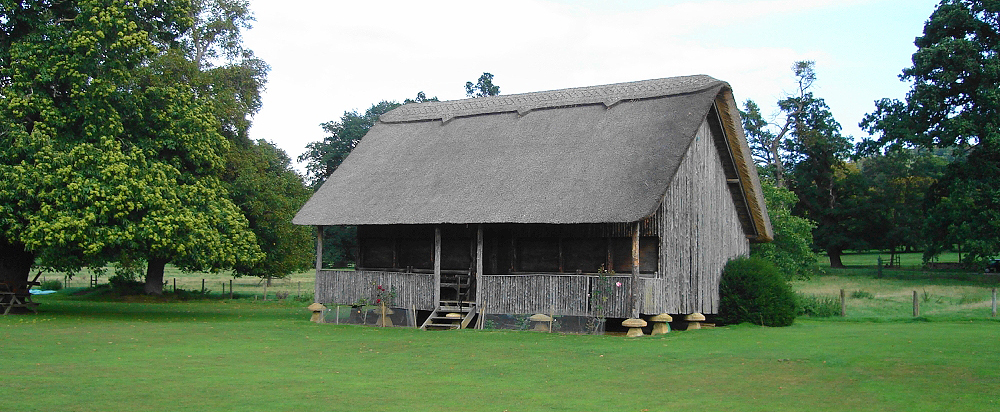 ... walking across Sir James Barrie's (author of "Peter Pan") cricket field (above), also used as a filming location for "Father Brown," outside the village of Stanway; and a visit to the village of Tetbury near Highgrove, where Charles, the Prince of Wales, has his private estate.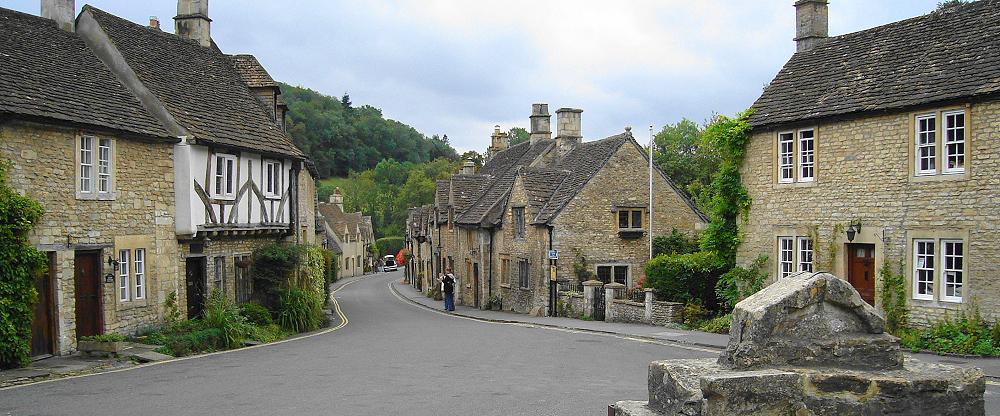 Everyone with whom we talked suggested that we should visit the village of Castle Combe, located on the extreme southern edge of the Cotswolds. Setting off for that destination toward the end of our week, we planned on spending only about an hour and then going on to film in the city of Bath. The village, nestled in a valley which time seems to have forgotten, was pure magic - it had been the setting of several movies shot there (the original Doctor Dolittle, Stardust, and even Stephen Spielberg's War Horse.)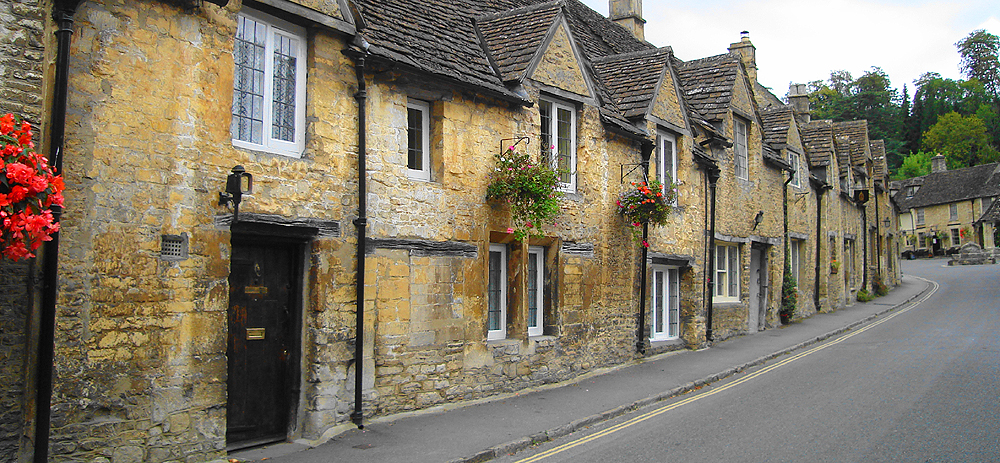 We ended up spending most of the day in Castle Combe, where we were invited into two private homes. The first invitation occurred while Wayne was photographing this beautiful old door (above, lower left) to a lovely small stone cottage. Wayne had just taken the picture when the door opened and he found himself two feet away from the cottage's owner. He apologized and then complimented her on the beautiful door when, to our surprise, she said, "Would you like to come in and see the cottage?" Pat, the owner, spent the next 45 minutes giving us a delightful tour of her lovely historic cottage built in 1662 - she even introduced us to the two resident horseshoe bats in her garden shed.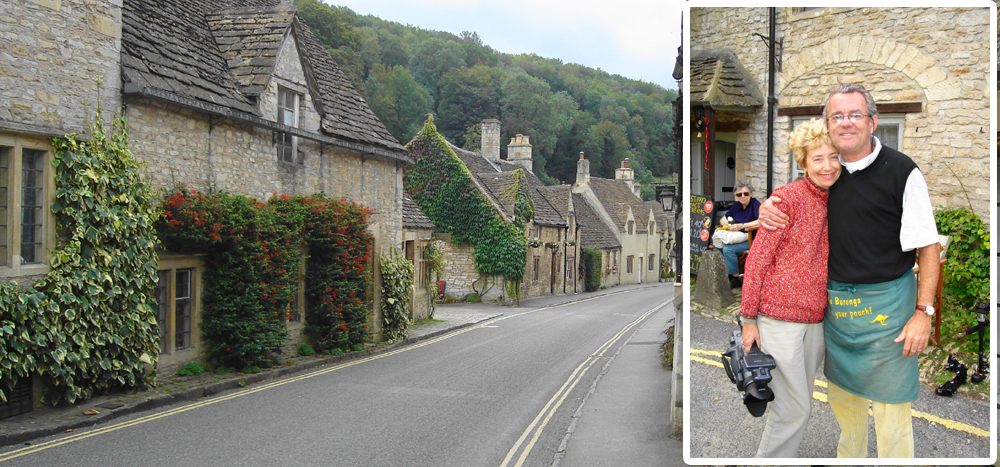 After leaving Pat's cottage and venturing up the hill, we next met Mac, the resident village historian, who invited us into his cottage and gave us a running commentary on the village, both past and present. The memories of our visit to Castle Combe are so magical I fear that, like Brigadoon, the village may not be there when we return.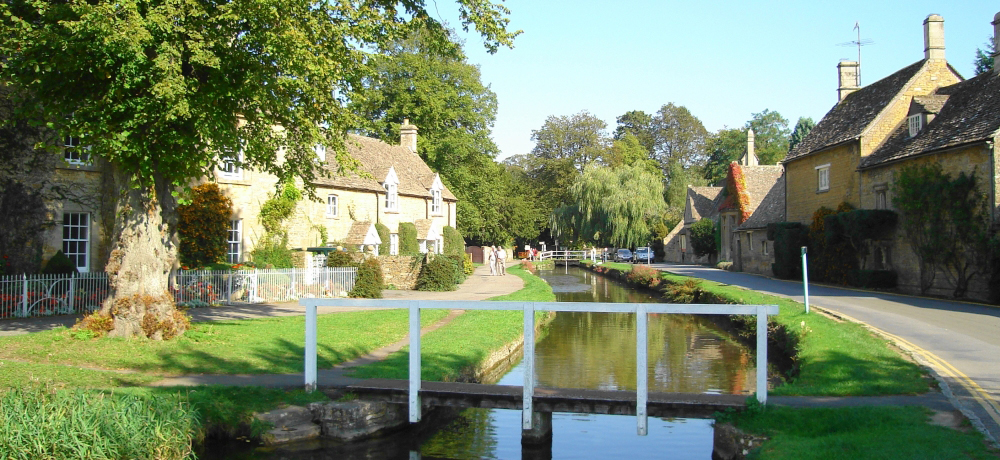 After a week, we realized that we had just barely scratched the surface of the Cotswolds but it was time to travel to our next shooting location, Paris. We definitely plan to go back to the Cotswolds soon. And perhaps, if we are in luck, as we are photographing a doorway, the door will open and we will meet a new friend along our journey.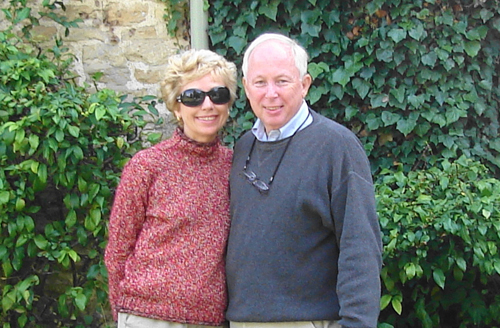 About the Author - Kathi Jacobs and her husband, Wayne, are the owners of VITA Digital Productions, a video production company specializing in creating Virtual Walks, Virtual Jogs, Virtual Cycling Scenery, and Virtual Cruises on scenic rivers. With over 50 different Virtual Experience Videos to choose from on vitadvds.com, VITA Digital Productions is the leading producer of Virtual Experience Videos in the world.