Ravello - An Amalfi Coast Jewel
May 2005 by Wayne Jacobs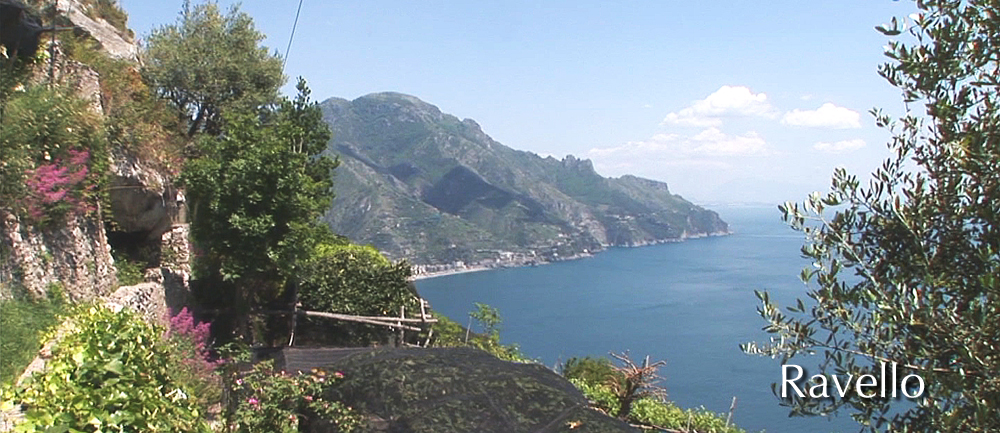 Ravello, a resort town set 1,000 feet above the Tyrrhenian Sea on Italy's beautiful Amalfi Coast, is an undiscovered jewel. The town has served historically as a destination for artists, musicians, and writers, including Giovanni Boccaccio, Richard Wagner, Edvard Grieg, M. C. Escher, Virginia Woolf, Greta Garbo, Gore Vidal, André Gide, Joan Mirò, Truman Capote, Tennessee Williams, Graham Greene, Jacqueline Kennedy, and Leonard Bernstein.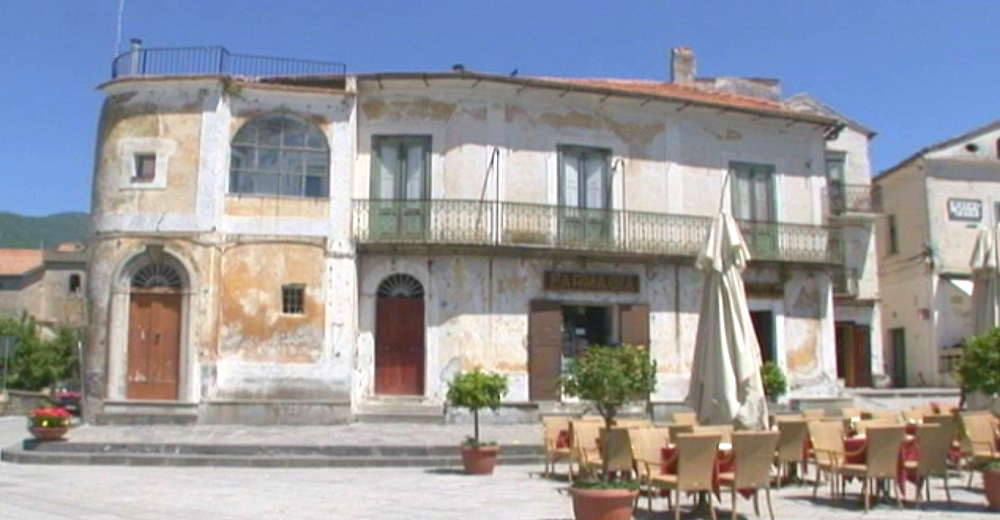 In May 2005, while Kathi, daugher Sarah, and I were spending a delightful week of filming in Sorrento, south of Naples on the Bay of Naples, we took a jet-boat down to the town of Amalfi and then a bus ride up the mountain to the little village of Ravello.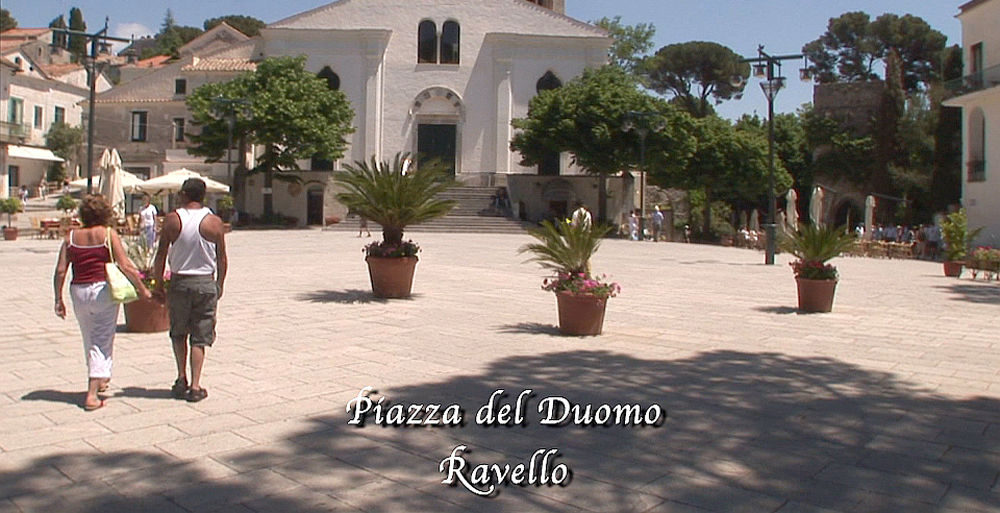 Ravello, usually overlooked by the tourists who descend on the more accessible towns of Amalfi and Positano, is a real gem. Long known for the Villa Rufulo, where an annual music festival is held, Ravello is so perfect an example of a timeless Italian village that John Huston selected it for the filming location of his 1953 movie classic, "Beat the Devil," with Humphrey Bogart, Jennifer Jones, and Gina Lollobridgida. And I'm happy to report that Ravello is still that sleepy little Italian village depicted in that fifty year old movie.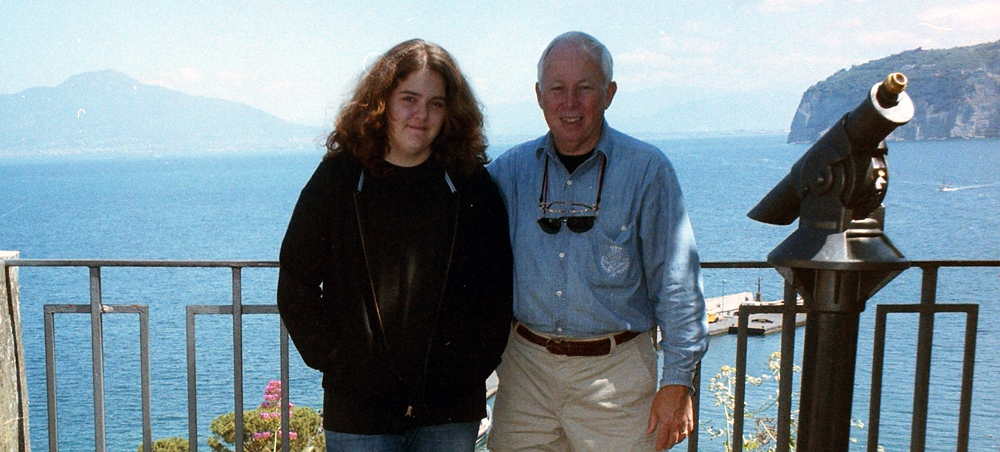 This was my daughter, Sarah's, first European trip and I was anxious to share the incredible Amalfi Coast with her. We began our Sorrento adventure after 25 hours in transit: four flight connections just to get to Rome, a train ride from DaVinci Airport to Rome's Termini Station, and a 2 hour bus ride to Sorrento. Arriving around nine PM at our B&B, Casa Astarita, right on the Corso d'Italia, we were greeted by a young Italian lady, shown to our rooms, and, exhausted, immediately went to sleep.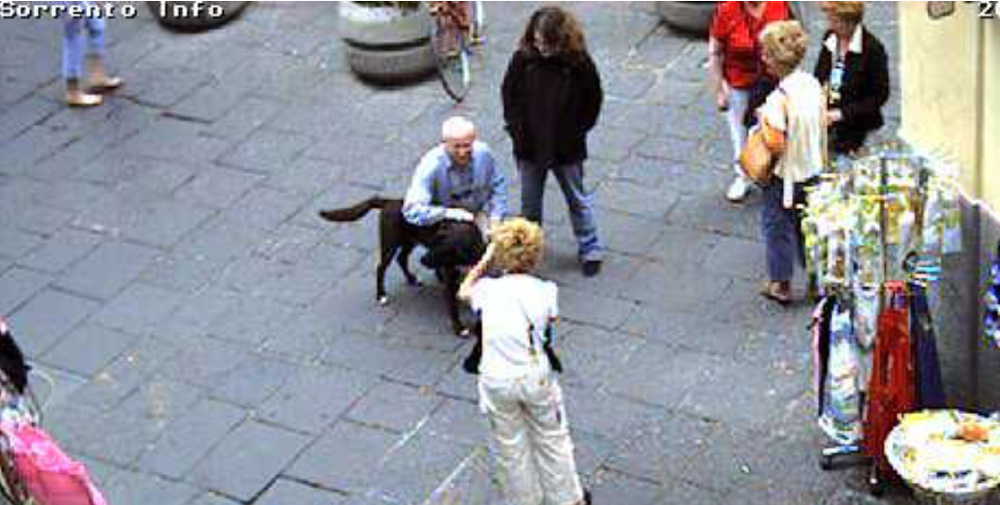 During our research for this 3 week trip to Italy (1 week in Sorrento to be followed by 2 in Rome), I had discovered that Sorrento had an excellent, larger than normal, live webcam on their website and I had emailed the tourist bureau there to find its exact location. We had arranged with our family and friends that on our first full day in Sorrento and at a very specific time, they would go to the website and be able to see Kathi, Sarah and me live on the webcam - and it worked! Even my daughter Susan, who was vacationing in Aruba at the same time, was able to watch us live in Sorrento.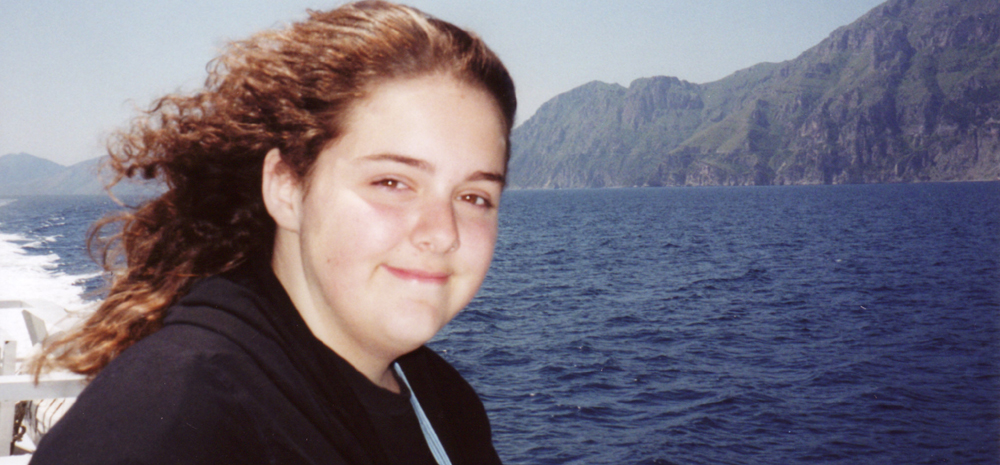 Our former travels have included many trips to Italy, including a lovely week some years ago in Sorrento, so we were already acquainted with the charms of the Amalfi Coast and I was anxious to see the area through my daughter's eyes - and I wasn't disappointed.
Unlike its larger rival, the town of Amalfi, Ravello has a peacefulness about it that is quite rare to find these days. As more and more of us take to the skies and seek out the sun in European locales, the very qualities and natural attributes of a hillside village seem to vanish before our very eyes.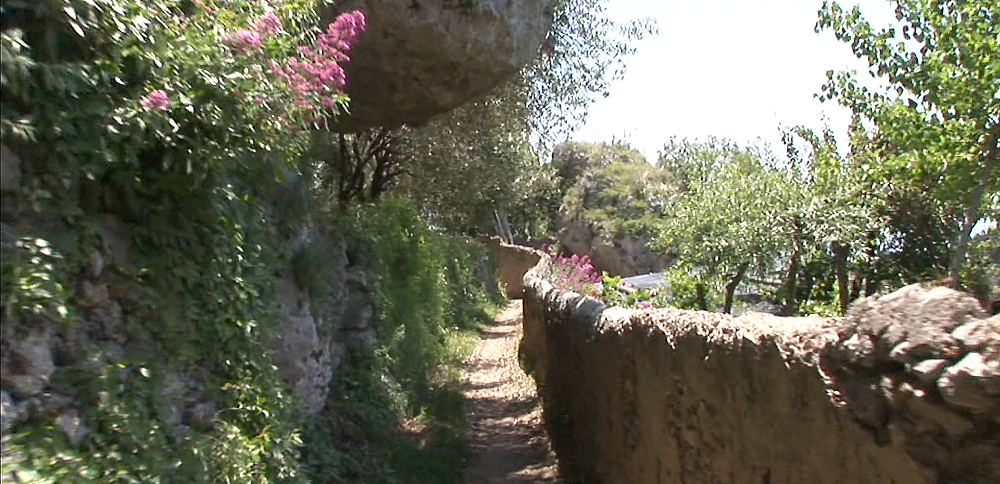 Our Virtual Walk, from Ravello down the mountainside to the small town of Atrani was filmed on a bright spring morning and took us out of town and along a gorgeous pathway. Instead of seeing lots of other people, we saw an abundance of wildflowers and eye-popping views of the very blue Tyrrhenian Sea beneath us.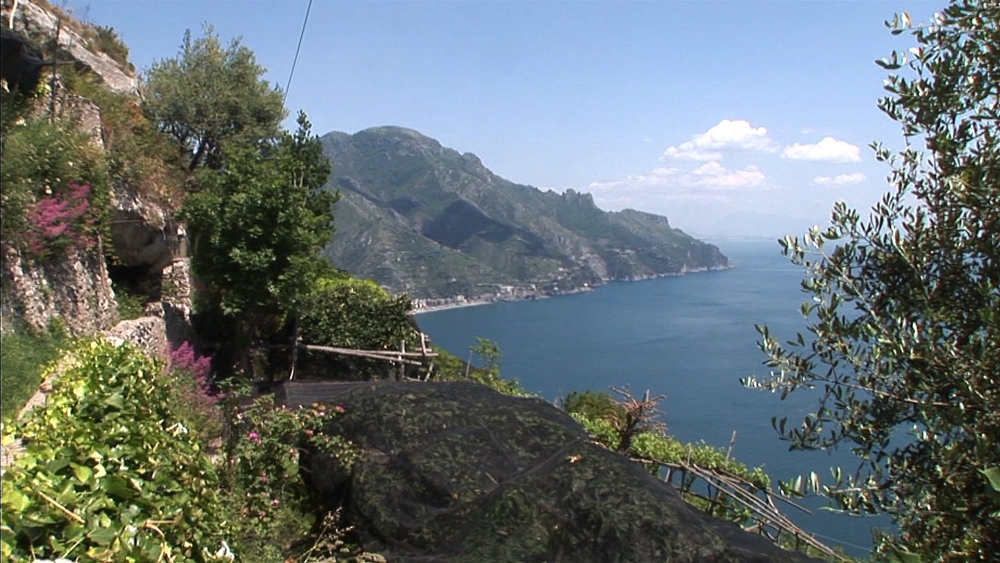 While I filmed, Kathi and Sarah followed some distance behind with other equipment: tripod, batteries, tools, video tape, lenses, and a tour book with a description of our walk telling us which way to turn at the many diverging paths along the way.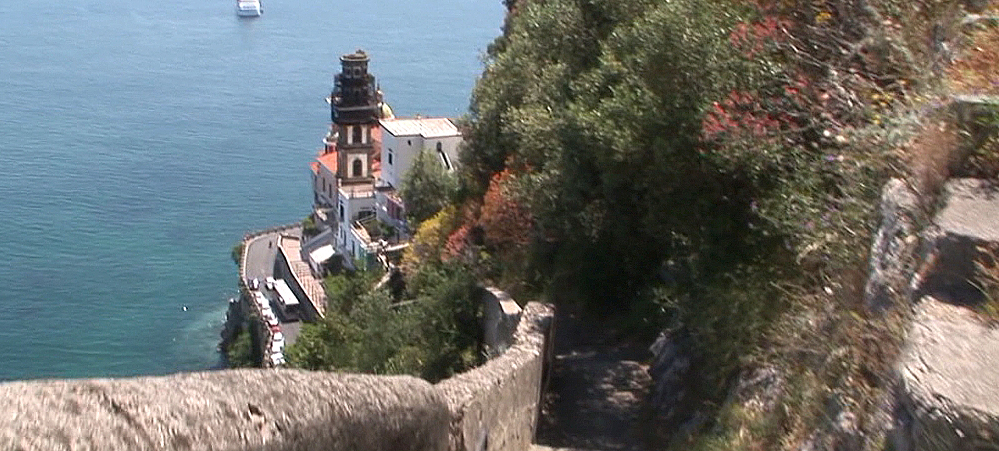 We encountered very few other hikers on the path. Since we were going down the 1,200 foot hillside, anyone we met was necessarily coming up and had a much more difficult climb.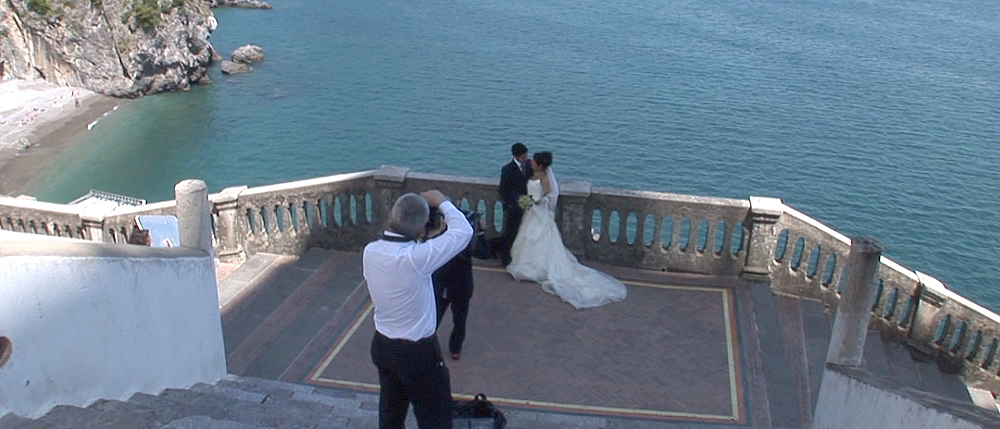 We eventually reached the charming little village of Atrani, and, while descending more steps, came upon a bridal couple having their portraits made - how fortunate for us. Atrani, whose surface area of 0.12 km2 makes it the smallest community in all of Italy with a population of only around 850.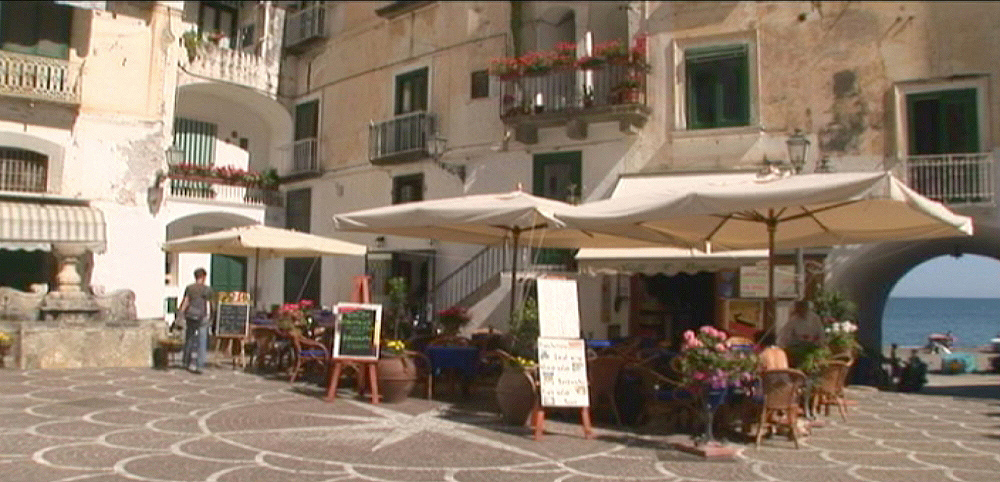 Though it is part of the Amalfi Coast, Atrani is the only town along the coast to preserve intact its antique, traditional characteristics. And after our virtual walk filming was complete, we stopped for lunch at this charming outdoor cafe in the center of the small seaside village.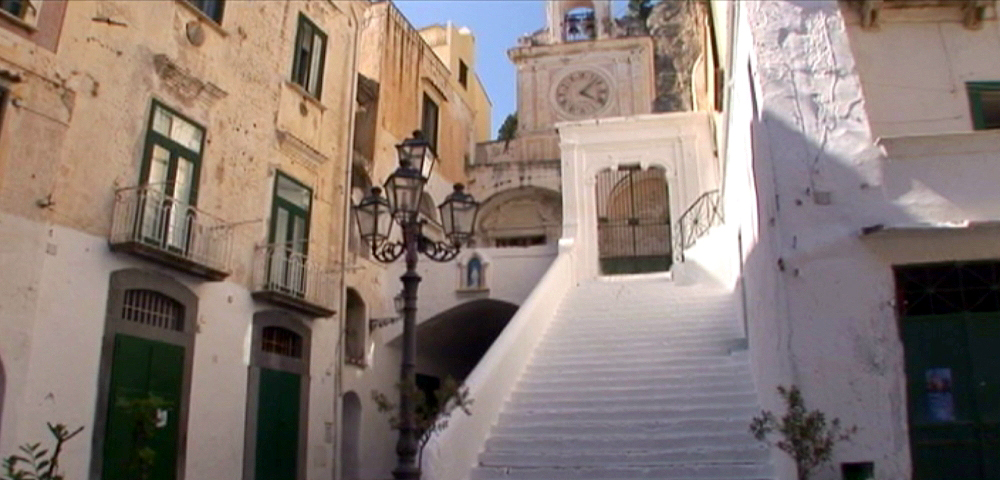 We shot a total of five VITA Treadmill Virtual Walks during those three weeks in Italy; a virtual walk on the Isle of Capri, a walk in Ancient Pompeii, and a walk in Medieval Viterbo, about an hour north of Rome, a walk in Rome itself, and of course, the virtual walk from Ravello down to Atrani. It was a very successful trip and one we will always remember.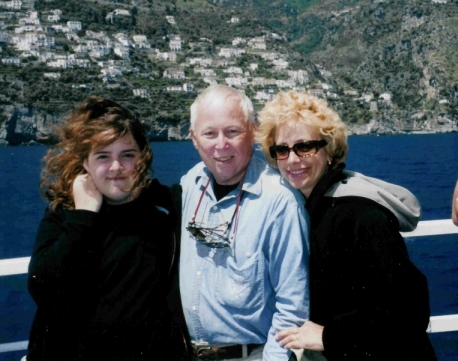 About the Author - Wayne Jacobs and his wife, Kathi, are the owners of VITA Digital Productions, a video production company specializing in creating Virtual Walks, Virtual Jogs, Virtual Cycling Scenery, and Virtual Cruises on scenic rivers. With over 50 different Virtual Experience Videos to choose from on vitadvds.com, VITA Digital Productions is the leading producer of Virtual Experience Videos in the world.