Blue Ridge Mountains Virtual Jog & Bike Ride - Available as a DVD or HD Download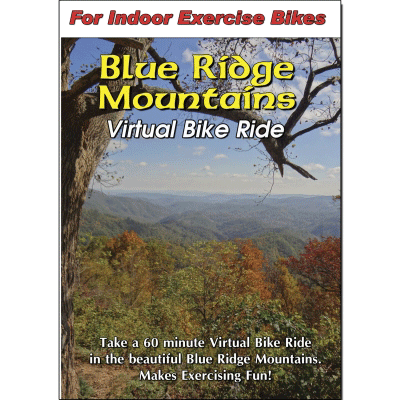 Take a 60 minute Virtual Bike Ride in the scenic Blue Ridge Mountains. The tenth in our new series of Virtual Jog or Bike Ride Videos has a 60 minute widescreen virtual tour in the scenic Blue Ridge Mountains of North Carolina.
Your one hour Cycling Scenery Video begins in the Blue Ridge Mountains just outside the village of Linville, NC on scenic US 221. The winding road passes under a canopy of trees just beginning to display their autumn colors. The deep greens of the summer forest are transitioning into the rich colors of autumn.
The second half of your Cycling Scenery Video switches to the famous Blue Ridge Parkway, the perfect locale for cyclists. Your uphill climb is made easier by the magnificent scenery that surrounds you. This section of the Parkway is filled with lush greenscapes and scenic vistas.
Your one hour Cycling Scenery Video ends at the appropriately named Grandview Overlook, milepost 281, with a spectacular view of the Yadkin Valley.
Filmed in Widescreen.
Available as either a DVD for $14.99 or HD Download for $6.99 by clicking on "Links" - above left.
Click on "Watch Video Clips" - under "Links" to view samples from this Video.