Caribbean Nature Virtual Walk - Available as a DVD or HD Download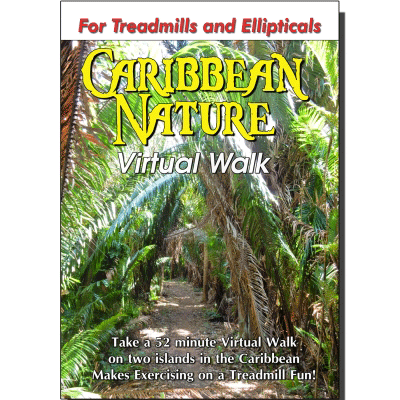 Take a 52 minute Virtual Walk through a tropical rain forest and a reconstructed Mayan Village. This 52 minute Caribbean Nature Walk begins in a lush, green valley on Roatan, a tropical island in Honduras. You pass a variety of native tropical plants, areca palms, ginger plants, fishtale palms, orchids, and bromeliads as you begin your walk up a mountainside. Roatan, with its unspoiled natural beauty, has become a popular eco-tourism destination in Honduras.
This is not a manicured tropical garden, you see it just as it exists in Nature with new fronds green and alive while the older fronds, brown and returning to the earth to nourish new plants, in Nature's neverending cycle. Eventually you reach the summit of the mountain with its spectacular view of Anthony's Key before descending down the mountain on a different path.
The second half of your Caribbean Nature Walk begins in Mexico in a reconstructed Mayan village. The camera follows winding paths with native tropical plants and replica statuary from the Mayan civilization. You feel as if you are 1,000 years back in time and walking in a authentic Mayan Village which even includes a replica of one of their magnificent sundials. After leaving the reconstructed Mayan Village, you enter another tropical folliage area with even more palms to admire. This 52 minute Caribbean Nature Walk ends on a tropical Mexican beach at the water's edge.
Filmed in Widescreen.
Available as either a DVD for $14.99 or HD Download for $6.99 by clicking on "Links" - above left.
Click on "Watch Video Clips" - under "Links" to view samples from this Video.