Connemara, Ireland Virtual Bike Ride - Available as a DVD or HD Download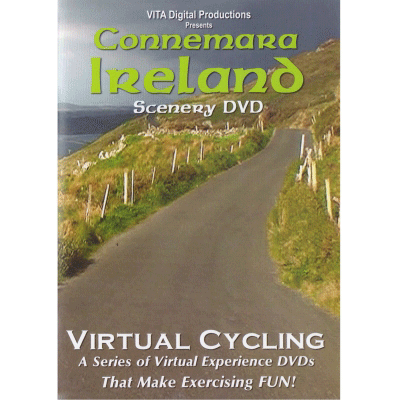 Take a 62 minute Virtual Jog/Bike Ride on the famous Sky Road in Connemara, Ireland! This Virtual Jog or Bike Ride begins by Lough (Lake) Corrib, in one of the most beautiful areas of Ireland (County Galway).
You'll speed through (at 12 to 15 mph) beautiful scenery featuring ancient rock walls, varied topography and vegetation, and breathtaking views as you climb ever higher. This DVD lets you experience the natural, rugged coast of Ireland from an eye-popping vantage point on a beautiful spring day in May! This is a view which few cyclists or joggers ever get to enjoy.
Filmed in Widescreen.
Available as either a DVD for $14.99 or HD Download for $6.99 by clicking on "Links" - above left.
Click on "Watch Video Clips" - under "Links" to view samples from this Video.