Cotswold Villages - Volume 1 Virtual Walk - Available as a DVD or HD Download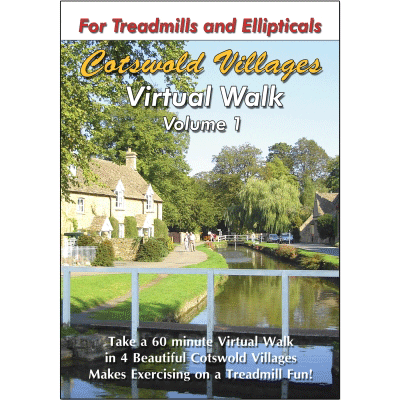 A 60 minute walk through four quaint Cotswold villages. Your treadmill walk begins in the village of Chipping Campden, a small market town in the Cotswold district of Gloucestershire, where on High Street, you pass through the famous Market Hall built in 1627 by Sir Baptist Hicks.
Your virtual walk then continues through the village of Broadway, often referred to as the "Jewel of the Cotswolds." Broadway is a center for arts and antiques and has a unique character all its own with tea rooms, inns and pubs, all clustered near the expansive village green.
Next you walk through the village of Upper Slaughter, where your walk takes you briefly into an old church lovingly decorated by villagers with a profusion of flowers from their gardens. Upper Slaughter was identified by author Arthur Mee as one of 32 "Thankful Villages." In "Enchanted Land" (1936), he wrote "that a Thankful Village was one which had lost no men in the Great War because all those who left to serve came home again."
Your walk ends in Lower Slaughter, arguably one of the most beautiful villages in the Cotwolds, where most of the 16th and 17th century homes in the village use Cotswold sandstone and are adorned with mullioned windows and often with other embellishments such as projecting gables.
Filmed in Widescreen.
Available as either a DVD for $14.99 or HD Download for $6.99 by clicking on "Links" - above left.
Click on "Watch Video Clips" - under "Links" to view samples from this Video.