County Clare, Ireland Virtual Bike Ride - Available as a DVD or HD Download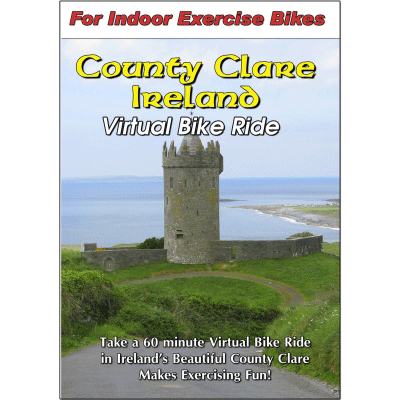 Take a 60 minute Virtual Bike Ride on the Emerald Isle! This is our fastest virtual bike ride to date, with speeds ranging from a leisurely 12 mph to upwards of 45 mph on a few downhill regions! Beginning in western Ireland in scenic County Clare, you'll travel through two small coastal Irish villages during this 60 minute DVD. Loaded with beautiful Irish spring scenery, you'll delight in this virtual bike ride DVD. This is Volume 2 of our Ireland Bike Ride series. This DVD gives you the opportunity to enjoy one of the finest biking areas in the world - and no worries about traffic, angry dogs, or a sudden rain storm.
Filmed in Widescreen.
Available as either a DVD for $14.99 or HD Download for $6.99 by clicking on "Links" - above left.
Click on "Watch Video Clips" - under "Links" to view samples from this Video.