Dartmoor Virtual Bike Ride - Available as a DVD or HD Download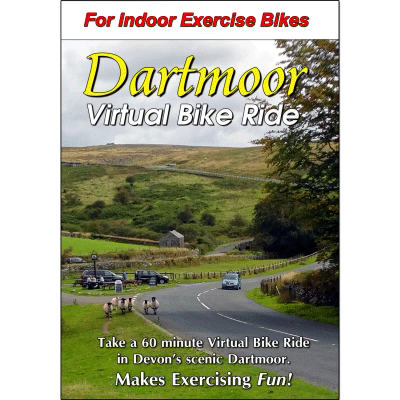 Take a 60 minute Virtual Bike Ride in Devon's striking Dartmoor. The eleventh in our ever growing series of Virtual Bike Ride Videos has a 60 minute widescreen virtual cycling tour in the Your one hour Cycling Scenery Video begins in the Devon village of Moretonhampstead, an often utilized staging area for serious cyclists.
After leaving the village proper, you are cycling between the hedgerows so typical of rural Devon and, from time to time, pass other cyclists on this scenic route. Our route passes the entrance to a stately English castle and, further on, leads us between old rock walls laden with green plants and ferns. The rural Devon scenery is constantly changing and always interesting. Dartmoor National Park was utilized for part of Stage 7 of the 2012 Tour of Britain.
The next section of our cycling route has twists and turns which reveal scenic vistas in the distance. Around almost every turn there's some new delight to enjoy. Eventually the Devon terrain changes to the typical Dartmoor landscape of uncultivated hill land with low growing vegetation with occasional sheep grazing along the edge of the roadway. And, after passing several large "Tors" in the distance, your one-hour Dartmoor Cycling Scenery Video ends on a gravel side road.
Filmed in Widescreen.
Available as either a DVD for $14.99 or HD Download for $6.99 by clicking on "Links" - above left.
Click on "Watch Video Clips" - under "Links" to view samples from this Video.