Egypt - Volume 1 Virtual Walking Tour - Available as a DVD or HD Download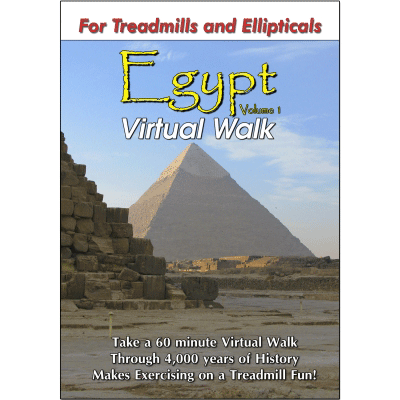 Take a 60 minute Virtual Walk through four different locales in Egypt and 4,000 years of history! Your Egyptian treadmill walk begins on the Giza Plateau, beside the Pyramids - the only remaining of the "Seven Wonders of the Ancient World."
On your walk, you get close enough to the ancient blocks of stone to almost touch them. And, as your walk continues, you pass other visitors and Egyptians on camels. Your walk next takes you to one of Egypt's best preserved temples, the Temple at Philae dedicated to the Egyptian Goddess, Isis. This temple was moved to a new island by international effort to save it from being submerged by a change in water level caused by the construction of the High Dam at Aswan.
Next your walk takes you to the Temple of Isis at Edfu dedicated to the Egyptian God Horus. Of all the temples that still exist in Egypt, the Temple of Horus is the most completely preserved. Your 60 minute walk ends with a walk in the famous bazaar at Khan el Khalili in Cairo.
Filmed in Widescreen.
Available as either a DVD for $14.99 or HD Download for $6.99 by clicking on "Links" - above left.
Click on "Watch Video Clips" - under "Links" to view samples from this Video.