Florence Virtual Walking Tour - Available as a DVD or HD Download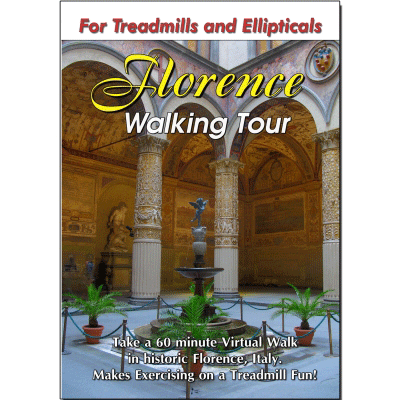 Take a 60 minute virtual walk on your treadmill or Nordic Track in beautiful, historic Florence, Italy - the birthplace of the Renaissance. During this one hour walking tour, you'll begin in Piazzale Michelangelo, with its breathtaking views of the city of Florence and walk to the Duomo where you'll take a look at the famous Baptistry and its Gates of Paradise, by Lorenzo Ghiberti.
You'll visit Piazza della Repubblica where a typical Italian street market is in progress. Next you'll walk through the Piazza della Signoria, where you'll first visit the Loggia dei Lanzi, an open-air sculpture gallery of antique and Renaissance art, then view a reproduction of Michelangelo's statue, David, and the famous Fountain of Neptune by Bartolomeo Ammannati.
Then, after a walk through the Piazzale degli Uffizi, you'll follow the Arno River to the Ponte Vecchio, famous for its gold shops. Lastly, you'll explore some Medieval back streets before arriving at the Piazza di Santa Croce and viewing the famous Basilica di Santa Croce. This 60 minute virtual walk is accompanied by the natural sounds just as they were recorded in Dolby Digital Stereo in Italy.
Filmed in Widescreen.
Available as either a DVD for $14.99 or HD Download for $6.99 by clicking on "Links" - above left.
Click on "Watch Video Clips" - under "Links" to view samples from this Video.