Florida Nature - Volume 2 Virtual Walk - Available as a DVD or HD Download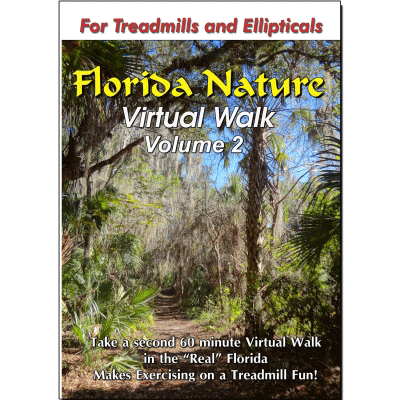 A second 60 minute virtual walk filmed in the "Old Florida" where nature still rules. Experience the "Real" Florida with a second 1 hour virtual walk in two different sections of Florida.
The 60 minute virtual walk first takes you into an ancient forest near the west coast of Florida where you'll experience hammocks, pinelands, and a rare Florida dry prairie. Later, you will experience a forest near the east coast that is preserved in its natural and unspoiled state. The 60 minute treadmill walk is accompanied by the natural sounds just as they were recorded in stereo in Florida.
Filmed in Widescreen.
Available as either a DVD for $14.99 or HD Download for $6.99 by clicking on "Links" - above left.
Click on "Watch Video Clips" - under "Links" to view samples from this Video.