The Four Seasons Virtual Walk - Available as a DVD or HD Download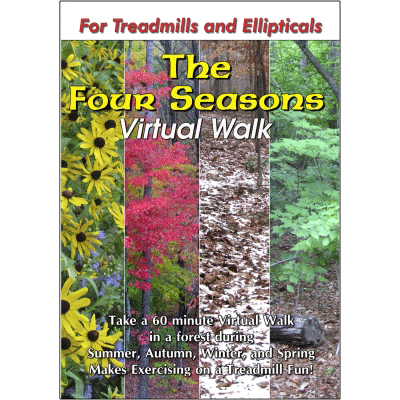 Experience all four seasons in just an hour. Your Four Seasons treadmill walk begins on a bright summer morning where you will find yourself immersed in a sea of green foliage and, as your walk continues along the same path, you see the forest change to autumn, winter, and then to its rebirth in springtime.
And, as a Bonus Chapter, you get "Springtime," a 10 minute featurette on beautiful springtime flowers and ferns is also included on the DVD! Set to beautiful music, this chapter has numerous closeups of wildflowers and ferns.
Filmed in Widescreen.
Available either a DVD for $14.99 or HD Download for $6.99 by clicking on "Links" - above left.
Click on "Watch Video Clips" - under "Links" to view samples from this Video.