Galway-Limerick, Ireland Virtual Walking Tour - Available as a DVD or HD Download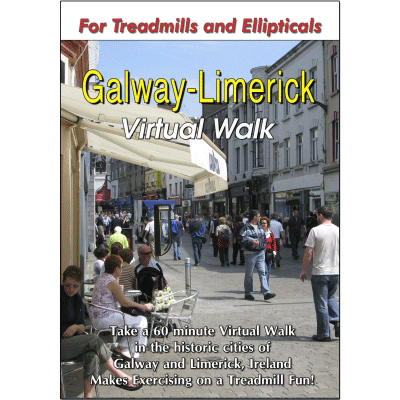 Take a 60 minute Virtual Walk through the cities of Galway and Limerick in Ireland. Your 60 minute Virtual Walk begins outside the Kennedy Park in Galway walking towards Williams Gate. You pass through busy Shop Street, crowded with shoppers then walk towards Bridge Street where you turn right and enter a greenway that follows the River Corrib. From time to time you pause to take in the beautiful scenery that surrounds you then, continuing on, you walk along Newtownsmith Street.
The next section of your Galway walk takes you through Buttermilk Walk and then through Buttermilk Lane, then through an indoor shopping mall before returning to busy Shop Street. But this time, we take a left down High Street past numerous Irish pubs and cross Father Griffin Road and come to Galway Bay and on to The Long Walk - a street that parallels Galway Bay and where the Galway section of your walk ends.
The Limerick section of the walk begins beside scenic George's Quay and then passes the Mariners' Memorial beside the Shannon River. The 60 minute walk next takes you to Limerick's Peoples' Park, the city's principal park. Next, you experience Limerick's shopping district, not quite as busy as Galway's streets. You'll follow O'Connell Street and pass a statue honoring a rugby player and a hurler. And after pausing to view Limerick's historic Treaty Stone, your 60 minute treadmill walk ends near Thomond Bridge.
Filmed in Widescreen.
Available as either a DVD for $14.99 or HD Download for $6.99 by clicking on "Links" - above left.
Click on "Watch Video Clips" - under "Links" to view samples from this Video.