Hollywood Hills Virtual Jog & Bike Ride - Available as a DVD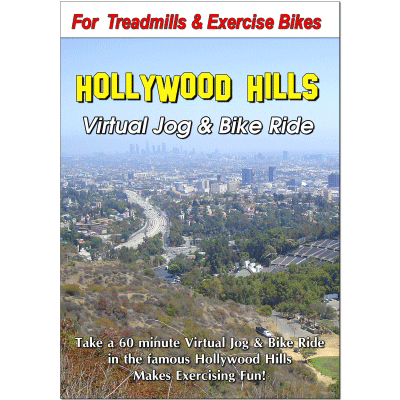 Take a 60 minute Virtual Bike Ride through some of the most beautiful (and expensive) real estate in America. IMPORTANT: This Virtual Bike Ride is typical of what you would see if you biked the Hollywood Hills today which includes numerous cars parked along the street plus many trash cans.
You'll experience the real Hollywood as you ride past the homes of the rich and famous. Who knows how many famous celebrity homes you will pass on this Virtual Bike Ride. One thing is for certain, early on you will pass the home of an famous heiress who, at the time this video was filmed, was in jail. Look for the yellow ribbons outside her home awaiting her release.
This Virtual Bike Ride varies in speed from 10 to 20 miles per hour and, after riding on Mulholland Drive at sunset, the 1 hour Virtual Bike Ride ends on fabulous Hollywood Boulevard at night. Sorry, but this video is not available as a HD Download.
Filmed in Widescreen.
Available as a DVD for $14.99 by clicking on "Links" - above left.
Click on "Watch Video Clips" - under "Links" to view samples from this Video.