Exotic Istanbul Virtual Walking Tour - Available as a DVD or HD Download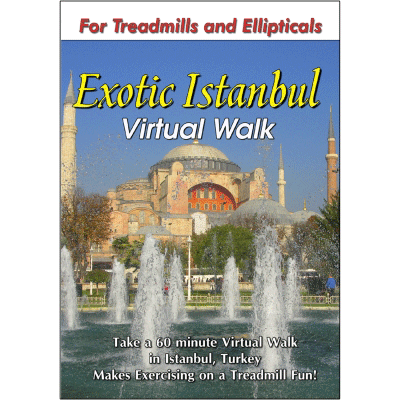 Take a 60 minute Virtual Walk through one of the most exotic cities in the world! Istanbul... exotic, mysterious, steeped in the history and the grandeur of sultans, mosques, souks, spices, and Turkish carpets so grand that one feels able to fly away into a world of fantasy!
This video contains the sights and sounds of a walk recorded on a sunny day in November, walking in the midst of a sea of faces. Your 60 minute Exotic Istanbul Virtual Walk begins by crossing the Galata Bridge which spans the Golden Horn. It's early on a November morning and the camera passes fishermen on the bridge before entering one of the many street markets in Istanbul. Everything you can imagine is for sale here in the ancient narrow streets. Soon you enter the Spice Market - also known as the Egyptian Bazaar - which is the second largest covered shopping complex in Istanbul. After leaving the Spice Market, you climb a steep street market, dodging the shoppers and men with carts coming down the hill.
Then it's on to the Sultan Ahmed Mosque (also known as the Blue Mosque) and a quick tour of its courtyard before leaving for a walk in the direction of Hagia Sophia, eventually passing through the Imperial Gate and into the First (outer) Courtyard of the Topkapi Palace with its beautiful tree-lined wide walkways. Next, another quick tour of the courtyard of the New Mosque built in 1597. Then on to a modern pedestrian only shopping district before entering the Grand Bazaar for a 10 minute tour.
The Grand Bazaar is one of the oldest covered markets in the world and has over 3,000 shops which attracts over 250,000 visitors daily and you'll zig and zag in order to dodge most of them. Leaving the Grand Bazaar, you walk briefly in a tranquil park before heading downhill to a busy street and a walk back towards the Galata Bridge, where your 1 hour Exotic Istanbul Virtual Walk ends. This DVD also has a 7 minute Bonus Chapter, "Bosphorus Magic," with scenes of a Cruise on the Bosphorus set to beautiful music - which can be used either for a "warm up" or "cool down."
Filmed in Widescreen.
Available as either a DVD for $14.99 or HD Download for $6.99 by clicking on "Links" - above left.
Click on "Watch Video Clips" - under "Links" to view samples from this Video.