Maine's Mt. Desert Island Virtual Jog & Bike Ride - Available as a DVD or HD Download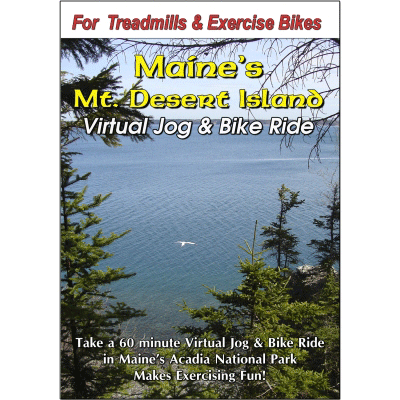 Take a 60 minute jog or bike ride from the top of Acadia National Park's Cadillac Mountain down to the park's beautiful 26 mile Loop Road. The first part of your 60 minute bike ride begins at the peak of Cadillac Mountain, in Acadia National Park. At an elevation of 1,530 feet, the mountain is the highest point on the eastern seaboard.
As you begin your descent, a group of cyclists race by on their way down the mountain. You're traveling at 12 miles per hour, the cyclists, much faster. In early May, when this virtual jog or bike ride was filmed, there was still some snow on the ground. Your descent down Cadillac Mountain continues following the twisting park road. After 15 minutes of descent, you turn onto the 26 mile park loop road where one minute you are deep in a forest, the next, beside the blue ocean.
Your 60 minute Bike Ride on Mt. Desert Island ends at Acadia National Park's carriage house. "Down East," a bonus chapter with a 14-minute featurette on the rocky seacoast, the clear forest streams, and harbors in this part of Maine, is also included on the DVD version. The featurette takes a closer look at the wide variety of scenic areas found in and around the coast of Maine. Accompanied by lush New Age Music, the bonus chapter can be used as a cool-down from your exercise session or, a beautiful stand-alone Maine travel video that can be enjoyed all by itself.
Sorry but this video is not yet available as a Download.
Filmed in Widescreen.
Available as a DVD for $14.99 by clicking on "Links" - above left.
Click on "Watch Video Clips" - under "Links" to view samples from this Video.