Quebec City Virtual Walking Tour - Available as a DVD or HD Download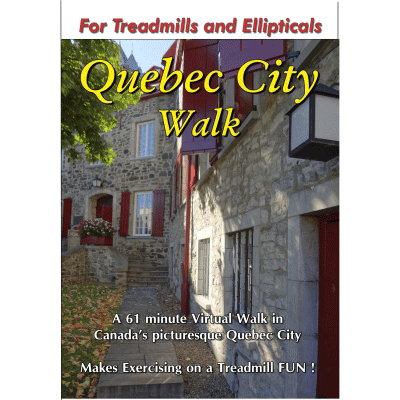 Your 61 minute walk in Quebec City begins at the Fontaine de Tourny, in front of Quebec's Parliament Building. Soon you pass through the massive stone fortification wall and enter Vieux-Québec (Old Quebec).As you continue down Rue Saint Louis, you pass numerous restaurants.
During your walking tour of Quebec, you discover several small parks and onto Quebec's famous Dufferin Terrace and Promenade des Gouverneurs boardwalk, with its views of the St. Lawrence and Chateau Frontenac in the distance. When the boardwalk ends, you turn and enter an area populated with outdoor cafes and artwork displayed for sale.
You walking tour also includes Lower Quebec and the quaint Rue du Petit-Champlain. Without doubt, Rue du Petit-Champlain is one of the most charming and colorful streets in the world. Lined with shops and boutiques, this little street is a gem! At the end of Rue du Petit-Champlain, you turn and head north on Boulevard Champlain - also lined with one-of-a-kind shops and restaurants. Leaving Lower Town, you move to the Plains of Abraham, once an historic battlefield, but today a quiet park with beautiful vistas and scenic views of the St. Lawrence plus beautiful hardscaping and hills with even more scenic views of the river.
Leaving the peaceful Plains of Abraham, you cross a busy street and approach another historic city landmark, Quebec's Parliament Building. You pass by the front of Parliament Building, with its statues of famous Canadians, and, after crossing the square in front of Parliament Building, your 61 minute walk ends at its starting point, the beautiful Fontaine de Tourny.
Filmed in Widescreen.
Available as either a DVD for $14.99 or HD Download for $6.99 by clicking on "Links" - above left.
Click on "Watch Video Clips" - under "Links" to view samples from this Video.