Ravello to Atrani Virtual Walk - Available as a DVD or HD Download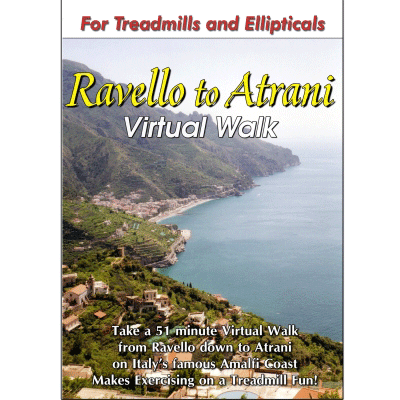 Take a 51 minute breathtaking Virtual Walk on your treadmill from Italy's village of Ravello down to the town of Atrani on the Amalfi Coast and through some of the most beautiful scenery ever! Ravello, the sister city of Amalfi and summer home of the rich and famous, is a natural jewel perched high on the hillside overlooking the sea.
Ravello, overlooked by the hoards of tourists, is perched high on a hillside and offers the best vistas on the Amalfi Coast. This is certainly one of our most stunningly beautiful Virtual Walk DVDs! Only a small number of travelers to Italy will have the opportunity to see such unparalleled natural splendor and beauty. This treadmill scenery walk ends at the beach in the picturesque coastal village of Atrani.
Filmed in Widescreen.
Available as either a DVD for $14.99 or HD Download for $6.99 by clicking on "Links" - above left.
Click on "Watch Video Clips" - under "Links" to view samples from this Video.