Rhodes, Greece Virtual Walking Tour - Available as a DVD or HD Download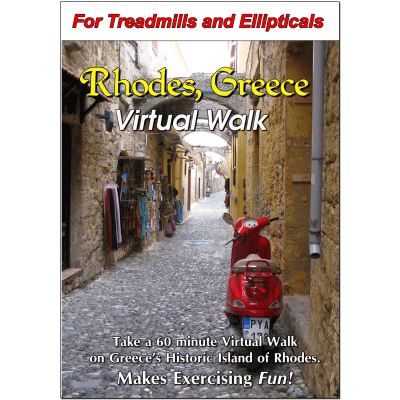 Take a 60 minute Virtual Walk through one of the most exotic cities in the world! Istanbul... exotic, mysterious, steeped in the history and the grandeur of sultans, mosques, souks, spices, and Turkish carpets so grand that one feels able to fly away into a world of fantasy!
The Island of Rhodes Virtual Walk - Take a 60 minute virtual walk on your treadmill or Nordic Track on the medieval Greek island of Rhodes. Famous since antiquity as the site of Colossus of Rhodes, one of the Seven Wonders of the Ancient World, the Greek town of Rhodes is considered one of the best-preserved medieval towns in Europe - and you can exercise in this amazing city! With this 60 minute Virtual Walk DVD or HD Video Download, you'll experience the charm, the beauty, and the history of one of the most scenic of the Greek Isles.
Your 60 minute Virtual Walk begins early in the morning beside the Kolona Harbour in Rhodes and follows the east wall of the medieval city as it curves gently around the harbor. After entering the old town of Rhodes by passing through the Marine Gate you turn left and enter Platia Ippokratous and walk past its medieval fountain. Your one hour walk will cover not only the typical tourist sights of the old town but also the scenic back streets and alleyways that contain so much Greek charm.
Filmed in Widescreen.
Available as either a DVD for $14.99 or HD Download for $6.99 by clicking on "Links" - above left.
Click on "Watch Video Clips" - under "Links" to view samples from this Video.