Seine River Virtual Cruise - Available as a DVD or HD Download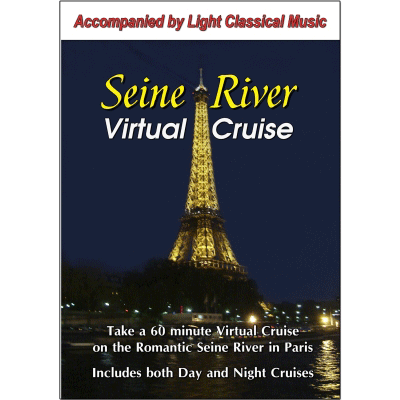 Take a 60 minute Virtual Cruise on the Seine River in Paris, France! Now you can experience the beauty and magic of the most romantic river in the world - the River Seine - the beating heart of Paris and the division between the Left and the Right Banks. "The Seine River Cruise" will allow you to experience the magic and the romance of both a day and an evening cruise on the famous river.
The first half of your Seine River Cruise takes place on a beautiful September day. Accompanied by light classical music, your virtual experience cruise begins at the southeast end of Ile Saint-Louis and heads northeastward and soon goes under Ponte de Sully, the first of many Paris bridges you will encounter on this one hour video.
The second half of this 1-hour Virtual Cruise takes place in the evening and is filled with colored lights reflecting in the Seine as you approach the Eiffel Tower. Filmed in Widescreen with professional television cameras, this is certainly one of our most beautiful Virtual Experience Videos.
Filmed in Widescreen.
Available as either a DVD for $14.99 or HD Download for $6.99 by clicking on "Links" - above left.
Click on "Watch Video Clips" - under "Links" to view samples from this Video.