Sherlock Holmes Virtual Walking Tour - Available as a DVD or HD Download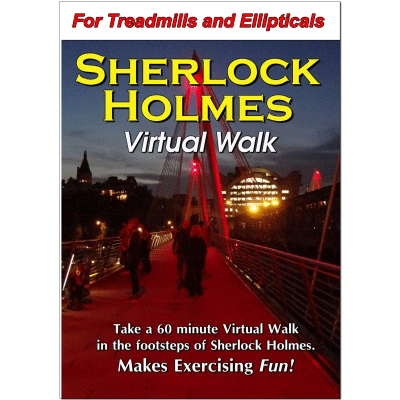 This video will take you on a one hour walk to sixteen filming locations used in the hit BBC Television series about Sherlock Holmes. Filmed in widescreen using professional High Definition Television cameras and camera stabilization equipment, the camera seems to float as it transports the viewer through 16 different locations in London and Dartmoor.
With this 60 minute Virtual Walk Video you'll visit at least one of the exterior filming locations used in each episode of the first three seasons of the television series. During your one-hour Sherlock Holmes Virtual Walk you'll visit the location where John Watson encountered his old chum, Mike Stanford, sitting on a park bench. It was Stanford who told John that Sherlock Holmes was looking for a flat-mate. Later on you'll visit the location where Sherlock and John sit in a restaurant awaiting a murderer. Then you'll tour filming locations in Chinatown, Trafalgar Square, the Hungerford Bridge, and Piccadilly Circus.
You'll walk to Buckingham Palace, to 44 Eaton Square where Irene Adler resided, to the iconic Battersea Power Station, and even a tor in Dartmoor. You'll visit St. Bart's Hospital and see the location where Sherlock fell to his "death," to 221B Baker Street where Sherlock and John shared a flat, to Westminster Bridge where Sherlock and Mary, on a motorcycle, raced to save John's life, and to the Blue Bridge in St. James' Park used in the episode titled, "The Sign of Three."
And lastly, you'll travel to one of the most unusual filming locations in the series: Leinster Gardens and its two false façades used in the episode titled, "His Last Vow." If you're a fan of the BBC television program, you'll certainly enjoy "walking" to some of the unique filming locations used in the hit series. Even if you've never watched a single episode, you'll still enjoy visiting some of the most interesting locations in London.
Filmed in Widescreen.
Available as either a DVD for $14.99 or HD Download for $6.99 by clicking on "Links" - above left.
Click on "Watch Video Clips" - under "Links" to view samples from this Video.