Venice Virtual Walking Tour - Available as a DVD or HD Download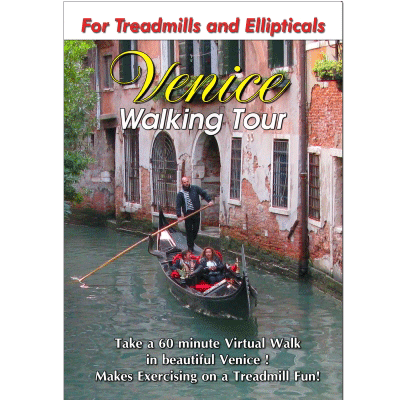 Take a 60 minute walk on your treadmill or Nordic Track through amazing Venice. In all the world there is only one Venice! And this Walking Tour of Venice is as close as you can get to actually being in this incredible city without boarding an airplane.
In addition to touring most of the major sites in Venice on a crisp Autumn morning, you'll enjoy walking the narrow alleyways that open into beautiful campos and piazzas, some which are crowded with people while others are almost completely empty.
This 60 minute virtual walk is accompanied by the natural sounds just as they were recorded in Dolby digital Stereo in Venice. If you've ever wanted to visit this amazing city, then you'll enjoy your exercise sessions while "walking" in Venice on your treadmill! And, if you have visited Venice in the past, then this hour long walking tour video will help you to recall the wonderful memories you made there!
Filmed in Widescreen.
Available as either a DVD for $14.99 or HD Download for $6.99 by clicking on "Links" - above left.
Click on "Watch Video Clips" - under "Links" to view samples from this Video.