Medieval Viterbo, Italy Virtual Walk - Available as a DVD or HD Download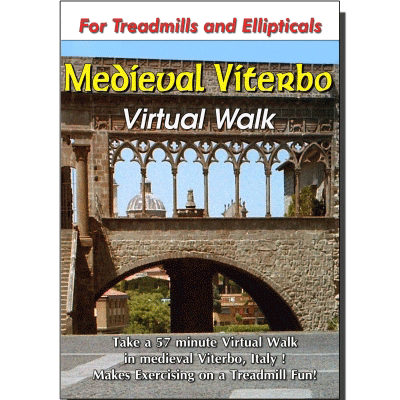 This DVD will take the viewer on a 57 minute Virtual Walk in historic medieval Viterbo, Italy, a city frozen in time. Filmed in widescreen, the camera seems to float as it transports the viewer through the medieval back streets and alleyways of a city still much like it was in the 13th century.
Starting in the Piazza del Morte you walk to the Cathedral of S. Lorenzo and the Palazzo dei Papi, home of the pope for two decades in the 13th century. From there your walk continues through a maze of medieval back streets and alleyways, essentially unchanged for eight centuries. Many streets are too narrow for cars and in those empty streets and alley- ways you can imagine that you are back in the 13th century.
The historic center of the city is surrounded by medieval walls, still intact, built during the 11th and 12th centuries and your walk takes you through the Porta Romana. From time to time the camera pauses to take in an ancient fountain or a scenic view. The 57 minute walk is accompanied by the natural sounds recorded in Viterbo. It's the closest thing to actually being there.
Filmed in Widescreen.
Available as either a DVD for $14.99 or HD Download for $6.99 by clicking on "Links" - above left.
Click on "Watch Video Clips" - under "Links" to view samples from this Video.